About Us
La Pernella is a italian restaurant based in London. Why not try our delicious Bufalina Pizza or Prosciutto E Funghi Pizza!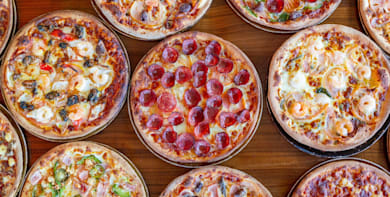 Reviews
13 reviews
Francesca
"I ordered the Bufalina, tiramisu and a cannolo. All delicious, and the delivery was quick. La Pernella is a gem."
06/05/2021
Suélen
"The best pizza in London! Nutella calzone it's something that everybody needs to try!"
03/05/2021
Olivia
"Delicious pizza, arrancini and tiramisu! Thank you"
02/05/2021
Tracy
"Really tasty; delivered quickly - thank you!"
26/03/2021
Menu
Cannolo Siciliano Dolci
Rolled sweet pastry filled with ricotta & candied fruit
£5.50
Calde Calde Dolci
Contains: Nuts
Hot Italian doughnuts drizzled with Nutella and granulated sugar. Homemade dessert
£5.00
Strawberry Cheesecake Dolci
Homemade Baileys cheesecake with raspberry coulis and fresh berries. Homemade dessert
£5.00
Tiramisu Dolci
Homemade Italian sponge trifle soaked in espresso and mascarpone. Homemade dessert
£5.00
Pizza Nutella Dolci
Contains: Nuts
£7.00
Caprese Dolci
Contains: Nuts
Famous Capri flourless almond chocolate cake
£5.50
Crostatina with Nutella Dolci
Contains: Nuts
Homemade tart with Nutella
£3.50
Baba Napoletano Dolci
Popular Neapolitan dessert!!!
£5.00
Bibite Sparkling Water 500ml
£2.50
Montanare
2 Neapolitan fried dough topped with tomato sauce, parmesan, and mozzarella
£5.50
Polpette Napoletane
Homemade Italian beef meatballs in a rich tomato sauce
£7.00
Burrata E Zucchine Fritte
Soft Southern Italian cheese served with fried courgettes
£7.50
Crocche Di Patate
Fried potato croquettes filled with mozzarella and parsley
£6.50
Zeppoline Napoletane
Italian fried dough balls with a spicy sauce
£3.50
Mozzarella Di Bufala
Served on a bed of rocket, cherry tomatoes, fresh basil, and evo
£6.70
Arancini
Fried rice balls filled with bolognese sauce and peas
£6.00
Calamari Fritti
Deep fried fresh calamari
£8.70
Parmigiana Al Forno
Oven baked aubergines filled with "fior di latte", tomato sauce, and basil
£8.00
Frittatina
Bucattini pasta fritter with bechamel sauce, peas, and Italian mince beef
£4.00
Vegetariana Pizza
Tomato, mozzarella, evo, aubergines, roasted sweet peppers, and mushrooms
£10.50
Pancetta and Gorgonzola E Noci Pizza
Contains: Nuts
Tomato, mozzarella, evo, Italian pancetta, walnuts, and gorgonzola cheese
£13.00
Mortadella E Pesto Di Pistacchio Pizza
Mozzarella, pistacchio pesto, pistacchio nuts, mortadella from bologna, fresh basil, and evo
£13.00
Bufalina Pizza
Tomato, buffalo mozzarella, fresh basil, and evo
£10.00
La Pernella Pizza
Cherry tomatoes, mozzarella, aubergine, rocket, ricotta, and parmesan shaving
£10.50
Calzone Pizza
Pizza filled with ricotta, mozzarella, evo, salami, and tomato
£11.00
Romana Pizza
Tomato, anchovies, evo, capers, black olives, oregano, and mozzarella
£10.50
Prosciutto E Funghi Pizza
Tomato, mozzarella, basil, Italian cured ham, mushrooms, and evo
£11.00
Vegan Pizza
Tomato, vegan cheese, artichokes, roasted peppers, mushrooms, basil, and evo
£11.50
Pizza Marinara
Extra virgin oil, tomatoes, garlic, and oregano
£6.50
Montecarlo Pizza
Tomato, mozzarella, garlic, oregano, Italian cured ham, mushrooms, chilli, and salami
£12.00
Capricciosa Pizza
Tomato, mozzarella, artichokes, mushrooms, Italian cured ham, and olives
£11.50
Golosa Pizza
Tomato, mozzarella, basil, evo, meatballs, and parmesan shavings
£10.50
Salsiccia E Friarielli Pizza
Provola cheese, Italian sausage, Neapolitan broccoli, and evo
£12.00
Margherita Pizza
Tomato, mozzarella, fresh basil, and evo
£8.00
Crema Mais Prosciutto Pizza
Mozzarella, cream, Italian cured ham & sweetcorn
£10.50
Diavola Pizza
Tomato, mozzarella, spicy salami, mushrooms, evo, and chill
£11.00
Garlic Bread with Mozzarella
£5.50
Rucola and Crudo Pizza
Cherry tomatoes, mozzarella, parma, rocket, and parmesan shavings
£12.00
Burrata e Nduja Pizza
Tomato, mozzarella, basil, nduja & burrata cheese on top
£13.50
Insalata Rucola and Parmigiano
Rocket leaves, cherry tomatoes, evo, and parmesan shavings
£4.50
Insalata Caprese
Buffalo mozzarella, cherry tomatoes, evo, and fresh basil
£7.50
Wurstel, Provola and Patate Panuozzo
Frankfurter, melted provola cheese, and French fries. Folded woodfried pizza sandwich
£9.00
Porchetta E Friarielli Panuozzo
Seasoned suckling pork, wild broccoli, and melted provola. Folded woodfried pizza sandwich
£10.00
Melanzane and Peperoni Panuozzo
Pan fried aubergines in cherry tomato sauce, roasted sweet peppers, and mozzarella. Folded woodfried pizza sandwich
£9.50
Salsiccia E Friarielli Panuozzo
Neapolitan sausage, wild broccoli, and melted provola. Folded woodfried pizza sandwich
£9.50
Contact Us
Find Us
470-472 Garratt Lane, London, SW184HJ
We deliver to
CR4, SW11, SW12, SW15, SW16, SW17, SW18, SW19, SW4, SW6